Categories
Manufacturers
Cart Contents
Your cart is currently empty
Subtotal: $0.00
Sale Item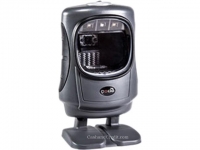 Code Reader 5000AV
$449.00
Product Details
Sam4S ML700 Digital Customer Display 7"

SKU: ML700-503011
Overview
Sam4S ML700 Digital Customer Display 7""
The innovative new SAM4s 7" Graphic Customer Display is designed to visually promote product, promotions and specials. A slide show runs continuously on the screen above the enhanced customer display. VESA mounting is provided for custom installations. For about the same cost as a standard POS pole display, you can deliver much more. SAM4s graphic displays really do turn heads!
Think of the SAM4s ML700 Graphic Customer Display as a combination digital photo frame, order confi rmation screen and customer display. Choose from four horizontal or three vertical screen configurations to display these different elements.
Like a digital photo frame, you can run a series of images depicting menu items, promotions or specials. (Order confi rmation and images are not linked.) Image rotation interval is selectable. The SAM4s ML700 supports common image formats such as jpeg and bmp. Management can easily update images by connecting to a PC and dragging and dropping new images, or by inserting a USB memory stick with new images and letting the display automatically load the images.
Features
Large 7"" liquid crystal display.
Visually promote products and specials.
Like an order confirmation screen
Visually displaying the entire order promotes accuracy and reduces fraud.
Use the slide show confi guration like a digital photo frame.
Rotatable Portrait or Landscape Orientation.
User customizable height from 5-1/2"" to 20"".
Images are extremely easy to load.
Supports JPEG, BMP, PNG and TGA Image Formats
Scrolling Images
Able to Accept ESC/POS Commands for Text Display
Supports Different Language Character Sets
Built-in Real Time Clock
Easy to Upgrade Firmware in the Field
Also Supports VESA Mounting (75mm x 75mm)
SAM4s Models Supported
ER-285M (v5.013 or Later)
ER-390M (v4.1 or Later)
ER-650 (v11.2r)
ER-650R (v3.6r)
Er-655II (v2.5)
ER-5200M Series (v9.3 or Later)
ER-900 Series (v1.037 or Later)
SPS-300 Series (v1.046 or Later)
SPS-500 Series Hybrid ECRs(v1.00s [2-25-2013] or Later)
SPS-2000 (v3.00g31 [2-25-2013] or Later)
Tell a Friend