Categories
Manufacturers
Cart Contents
Your cart is currently empty
Subtotal: $0.00
Sale Item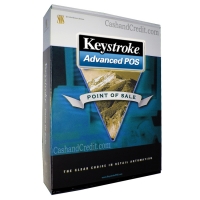 Keystroke Advanced POS - Version 8
$1795.00
Product Details
Casio SE-S400 Cash Register

SKU: SE-S400

List Price:

$299.00

Your Price:

$265.00

Your Savings:
$34.00
Quantity:

Share This Product:
Overview

REPLACEMENT MODEL: NCC Hisense HK570 Touch Screen POS Bundle (Click to View)
Casio SE-S400 Cash Register
The SE-S400 is combining style with functionality. The SE-S400 10-line LCD provides the operator a reference for the current transaction to eliminate errors. Up to five (5) items, the transaction subtotal and the price of last item entered are all displayed for the operator's review. The SE-S400 also boasts a 2X2 pop-up customer confirmation display with the last item's name, price and the transaction subtotal.
The SE-S400 offers a raised keyboard with 25 department keys that can be preset priced or open to enter prices manually allowing retailers to categorize their entry inputs. A scanner can be connected to one of the two (2) serial ports allowing up to 3,000 items to be scanned. The SE-C400 single (1) station thermal printer can be used as either a customer receipt printer or as a journal printer.
An optional electronic payment device can be connected to the machine allowing the store owner to integrate credit, debit and gift card transactions. The integrated payment device will decrease the time it takes to finalize a transaction and the close out process at the end of the day.
10-line operator LCD display with easy viewing tilt
2 X 2 built-in pop up customer display
Raised keyboard with 25 department key locations
Small cash drawer (4 bill/5 coin)
SD card slot for program backup/re-load
Option to add integrated payment device (Pax or Datacap)
Optional scanner can be connected
Age Verification
Easy to use drop & paper load thermal printer
Up to 3,000 PLU's
Tell a Friend