Categories
Manufacturers
Cart Contents
Your cart is currently empty
Subtotal: $0.00
Sale Item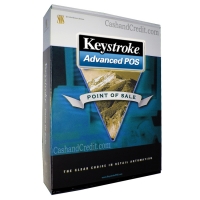 Keystroke Advanced POS - Version 8
$1795.00
Product Details
CyberPower 1350VA / 810W Battery Backup

SKU: CP1350AVRLCD
Overview
CyberPower 1350 VA/810 Watt Battery Backup
The CyberPower 1350 VA/810 Watt Battery Backup unit is a reliable way to provide up to 160 minutes of backup power to your electronic equipment. This unit comes equipped with Automatic Voltage Regulation, LCD Status Panel, and Data Savings Software.
1350VA / 810W Simulated Sine Wave UPS
LCD Status Panel Display
Line-Interactive Topology
AVR & GreenPower UPS

®

Multifunction LCD Display
Tower Form Factor
RJ11/RJ45 and Coax RG6 Protection
8 Outlets / USB and Serial Ports
EMI/RFI Filters
PowerPanel

®

Personal Edition
Dimensions: 4"" x 9.75"" x 13.25""
Intelligent LCD Diagnostic Display - The innovative front panel displays 11 different UPS vitals: input voltage level, output voltage level, automatic voltage regulator, battery capacity, runtime estimate, load level, output frequency, on battery, overload, fault condition, and silent mode.
Automatic Voltage Regulation - AVR technology stabilizes the AC voltage and maintains a safe voltage level without switching to battery-mode. This conserves battery life, and delivers cleaner AC power to connected equipment.
Reduce Energy Cost & Energy Loss - This ENERGY STAR® qualified UPS system utilizes patented GreenPower UPS® Bypass circuitry to save on energy costs by reducing energy consumption and heat buildup. Users can save up to 75% when compared to competitive models.
Ultra-Quiet UPS - Advanced cooling design, high-end system components, and GreenPower UPS® technology give CyberPower UPS systems the lowest sound emissions in their class.
Transformer-Spaced Outlets - Widely-spaced outlets accommodate large transformer-based plugs without compromising the utility of other outlets.
USB Connectivity - HID compliant USB port enables full integration with built-in power management and auto shutdown features of Windows, Linux and Mac OS X.
EMI/RFI Filters - Shielding against electromagnetic interference and radio frequency signals prevents line noise ("humming") over telephone lines or audio systems.
Audible Alarms - Distinctive tones identify when the unit is running on battery power, if it is overloaded or when the battery is low.
Resettable Circuit Breaker - The user may use this convenient unit reset switch in case of an overload.
PowerPanel® Personal Edition - In event of a power outage, PowerPanel PE saves open files and "hibernates" the PC to increase the run-time on the UPS unit. PowerPanel is easily installed on any Windows-based PC and uses minimal system resources. Diagnostic screens display the status of the UPS, including silent operation mode, configurable system notifications, automatic self tests, adjustable high/low voltage warnings, event/data logging, and scheduled shutdowns.
Tell a Friend