Categories
Manufacturers
Cart Contents
Your cart is currently empty
Subtotal: $0.00
Sale Item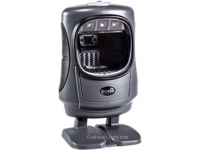 Code Reader 5000AV
$449.00
Product Details
Pioneer POS S-Line

SKU: POS-S-Line
Overview
The Pioneer 15" S-Class POS Computer provides a space saving solution for restaurants, retailers, or hospitality locations. An integrated Epson 3" thermal printer puts fast, reliable printing in the POS computer itself, cutting down on clutter at your checkstand.
The S-Class comes equipped with a 15" monitor running at a native 1024x768 resolution, fantastic for displaying most restaurant and retail applications on the market. Available with your choice of Resistive, InfraRed, or Capacitive touchscreen technologies, there's a model of S-Class ideally suited for success at your business. The POS computer is powered by an Intel Atom, Dual Core, or Core 2Duo processor, able to run POS software with ease, either as a server or secondary station.
The integrated receipt printer in the S-Class saves space at your checkstand while providing tremendous capabilities.
A maximum print speed of 9.8" per second ensures receipts and orders are printed quickly and with no hassle.
The printer can connect via serial or USB interface, freeing up a port if needed.
To minimize downtime, the integrated printer is field-replaceable, eliminating the hassle of shipping the entire POS computer in for repair.
To save more space, the 15" S-Class offers integrated accessories. Data capture is a snap with the integrated omni barcode scanner and side-mounted 3-track magnetic card reader. For customer displays and digital signage, Pioneer's rear-mounted customer display and 8" LCD provide a fantastic way to tell customers of current and upcoming deals. The S-Line redefines the all-in-one design by integrating a thermal receipt printer into a touchcomputer. Its compact design will save precious counter space, reduce cable clutter, and generate additional revenue.
The S-Line can load the most commonly used paper size: 80mm (3 1/8") wide by 80mm (3 1/8") diameter. The printer has a quiet operation and prints a fast 23 lines per second. It has an auto-cutter which will help reduce paper jams. The most exciting feature of the S-Line is the printer's tool-less "slider" design. It allows the printer to be easily replaced in the field in about a couple minutes.
The S-Line stands 15" tall and 14.5" wide (16.25" with MSR), and will free up the space beside your POS terminal by eliminating the need of an external printer. You can now use this space to generate additional revenue by displaying advertisements or selling merchandise.
The S-Line has a bright 15" display, and is powered by Intel's Atom, up to Core 2 Duo processor. It runs most Windows operating systems, and offers a wide range of integrated peripherals, such as magnetic stripe reader, biometric reader, barcode scanner, and secondary display. Expandability includes Gigabit network, 4 Serial, and 6 USB ports.
Tell a Friend