Categories
Manufacturers
Cart Contents
Your cart is currently empty
Subtotal: $0.00
Sale Item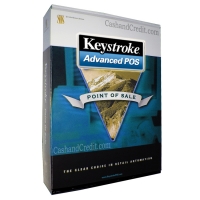 Keystroke Advanced POS - Version 8
$1795.00
Product Details
Cashscan 2000 Counterfeit Detector

SKU: CASHSCAN-2000

List Price:

$219.00

Your Price:

$187.95

Your Savings:
$31.05
Quantity:

Share This Product:
Overview
Cashscan 2000 Counterfeit Detector
!!! DISCONTINUED MODEL !!!
REPLACEMENT MODEL IS: AccuBanker D450. (Click to View)
Do your employees know how to identify counterfeit money? Don't rely solely on employee eyes or a pen.
The Cashscan Model 2000 is a completely new unit incorporating the changes requested by dealers and customers, and updated counterfeit detection sensors that catch today's sophisticated counterfeit note. The Model 2000 is also FASTER while offering a SMALLER footprint, and greater DURABILITY!
Using state-of-the-art technology, the new Cashscan 2000 counterfeit bill detector quickly verifies the Pattern Recognition, Magnetic, Ultra-violet, and Infra-red properties of the ink on all U.S dollars in order to verify the authenticity of a bill. Green light indicates a good bill, Red light and beep identifies a counterfeit bill. Now it's fast and easy to stop counterfeit bills!
Detects a counterfeit note with an audible tone and the flash of a Red light
Indentifies authentic bills with flash of a Green light
Confirms a bills authenticity in less than a second!
Verifies all denominations of U.S Currency
Easy to operate
Compact, lightweight, and durable
Powered by 100/240 volt AC adaptor (included)
One (1) Year Manufacture Warranty
Tell a Friend