Categories
Manufacturers
Cart Contents
Your cart is currently empty
Subtotal: $0.00
Sale Item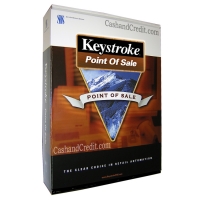 Keystroke Point of Sale - Version 8
$1195.00
Product Details
Tellermate T-ix R2000 Money Counter

SKU: T-ix R2000
Overview
Tellermate T-ix R2000 Money Counter
The Tellermate T-ix R2000 coin, bill, coupon and token counter offers simple cash reconciliation and audit functionality for coins and bills as well as coupons and tokens. Retail, food service and grocery industries need user-friendly and comprehensive cash counting solutions, faster and more accurate than hand counting.
The R2000 is designed for businesses that want to streamline their cash processes for tighter control, allowing more time for other tasks. It can count a cash drawer (including coupons and tokens) and prepare a bank in a single operation in under one minute. Faster counts enable more audits and checks to be performed, giving managers real-time information that can be swiftly acted upon when discrepancies occur. The R2000 can also connect to a Tellermate printer for production of mini reports that can be signed for accountability, creating a complete audit trail.
Bank deposits can be prepared quickly utilizing the full roll and strap mode feature. This feature alerts the user to errors, ensuring that deposits are correct the first time, while providing an instant view of daily cash takings.
Count a cash drawer in less than one minute
Dramatically speed up cash management
Counts bills, coins, coupons and tokens
Four customizable bank values
Itemized cash summary
Banking task for checking rolls and straps
Fast stack, high capacity money platform
Connect to a Tellermate printer for mini reports
Up to two currencies
Large backlit display with written and graphic instructions
Clear menu structure and directional navigation keys
Lightweight with carry grips
Compact footprint
Single container mode
Illustrated quick start guide
T-iX R2000 (Feature set similar to: TY+R100)
Tell a Friend