Categories
Manufacturers
Cart Contents
Your cart is currently empty
Subtotal: $0.00
Sale Item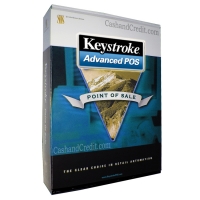 Keystroke Advanced POS - Version 8
$1795.00
Product Details
Casio TE-8500F Cash Register

SKU: TE-8500F

List Price:

$1439.00

Your Price:

$1015.00

Your Savings:
$424.00
Quantity:
Cash Drawer:

Share This Product:
Overview
Casio TE-8500F Cash Register
!!! DISCONTINUED MODEL !!!
REPLACEMENT MODEL IS: SAM4S SPS-520FT. (Click to View)
Powerful and flexible solutions from CASIO for today?s demanding business. TE-8500 Electronic Cash Register with Multi-Line Color Display. The TE-7000S and TE-8500F combine a 5.7-inch wide color LCD with a powerful engine to achieve high-performance responses to all kinds of business needs. A multi-tasking CPU and 8 MB on board memory optimizes peripheral and application software performance to cope effortlessly with the demands of fast-action work environments. TE-8500's combines it's large color operator LCD with such features as, scanning, food stamps, bottle links, 3 serial ports and the ability to communicate with Casio's Back Office Software Packages.
Flat Keyboard
256 Color Selection LCD
Large 14 line X 40 column color LCD operator display
2 Station - 2 1/4" Thermal Printer
32 Department Keys (99 departments max.)
99 Groups, 99 Sub-Departments
5,000 PLU?s with 8 Price Levels
5,000 Scanning PLU?s with 8 Price Levels<
8 Menu Levels, 24 character descriptor, 99 clerks
Customized Graphic & Watermark receipt logo?s
Arrangement (macro) keys with mode changes
Scheduler function (time, day of week, day of month activated operation)
Time & attendance with employee schedule
Pull down groups with minimum & maximum quantity selection
Electronic journal
Ability to recall unlimited finalized transactions for reviewing
Auto Broadcasting
Compact Flash card slot (program uploading/downloading)
10 quick touch function keys
IRC standard (CAT-5 or Casio standard inline)
IDC (Item data capture)
Up to 2 cash drawers (MDL-11 kit)
Dallas key kit option (clerk sign-on)
6 serial ports (PC, modem, Epson external printers, scale, scanner, credit/debit, Epson external display, slip printer)
Cash Drawer DL-2425: 5 Coins/5 Bill Metal - 16"" W x 18"" D x 4"" H - With Media Slot
Cash Drawer DL-3616: 5 Coins/5 Bill Metal - 19"" W x 19"" D x 4"" H - No Media Slot
Tell a Friend