Categories
Manufacturers
Cart Contents
Your cart is currently empty
Subtotal: $0.00
Sale Item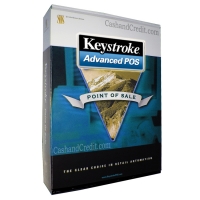 Keystroke Advanced POS - Version 8
$1795.00
Product Details
TEC FS-3700 Touch Screen POS

SKU: TEC-FS3700

List Price:

$2495.00

Your Price:

$2015.00

Your Savings:
$480.00
Quantity:

Share This Product:
Overview
TEC FS-3700 Touch Screen POS
!!! DISCONTINUED MODEL !!!
REPLACEMENT MODELS IS: Sam4S NCC Reflection POS. (Click to View)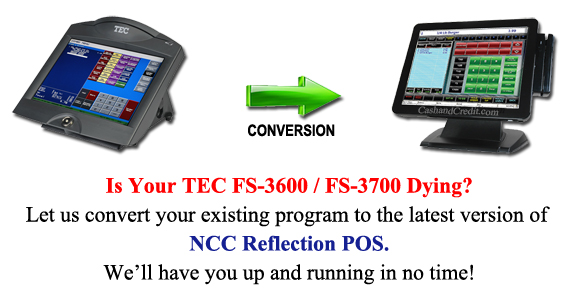 TEC FS-3600 Touch Screen POS
The FS-3700 Touch Screen ECR utilizes the same reliable hardware platform as its earlier counterpart and still possesses both hardware and software features that make it one of the most powerful ECRs of its kind. At the core of this product is an innovative combination of electronic cash register and point-of-sale design concepts. As a cash register, simplicity of design is the strongest attribute. But the powerful operational aspects of this product are clearly rooted in a strong point-of-sale philosophy. The flexibility it provides allows operators to customize its functionality in a manner that is best suited for their unique restaurant concept and environment.
Bright Color LCD Touch Panel
Low Profile, Compact Design
Spill Proof Cabinet Design
Reliability
The innovative design of the FS-3700 provides the features and functions of a POS Terminal, but with the reliability, speed, and ease of use that is commonly found only with traditional cash registers.
No Hard Drive
No Single Point of Failure
Complete Terminal Redundancy
Simple Configuration and Programming Menu
Stand-alone or network up to 32 terminals
Use with or without a networked PC
No cumbersome register communications setup
Auto-Sensing/Self-Healing Network
Standard TCP/IP Ethernet communications
Available Options
Two line 20 character integrated customer display
Magnetic card reader for gift card and credit card transactions and/or employee ID cards
Magnetic Digital Dallas Key support for security (Keys sold separately)
Quick Serve Features
The FS-3700 is an innovative combination of POS Functionality and ECR Reliability for the Quick Service restaurant.
Drive-Thru Mode
On the fly printing option
Coin Changer Support
Assign customer phone number fo to-go orders
Auto-Meal Combination Recognition
Inventory control including recipes and cost analysis
Kitchen Video support
Drive-thru Order confirmation Board Support
Table and Casual Dining Features
The FS-3700 possesses a strong feature set which addresses the complexities of a Table Service environment
Table and retained check Tracking
Server banking and Cashier Operations
Graphical Table Map
Separate Check Functionality by Item, Seat, or Dollar Amount
Credit Authorization Option
Liquor Dispenser Support
Custom Kitchen Messages
Assign Names to Bar Tabs
Built-in Employee Management
The FS-3700 can help you maintain your employee timekeeping by providing Clock In/Out punch time information on up to 999 employees with Job Type descriptions and Pay Rates. Employee clock in/out procedures can either be performed by numeric entry, magnetic card or digital Dallas key. Security levels provide the controls necessary for access to functions. Other features are the comprehensive reporting, including category and menu item tracking by user, and labor to sales calculations.
Tell a Friend