Categories
Manufacturers
Cart Contents
Your cart is currently empty
Subtotal: $0.00
Sale Item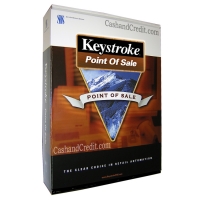 Keystroke Point of Sale - Version 8
$1195.00
Product Details
Sam4S ER-5115II Cash Register

SKU: ER-5115-II

List Price:

$589.00

Your Price:

$549.00

Your Savings:
$40.00
Quantity:
Programming:

Share This Product:
Overview
Sam4S / Samsung ER-5115-II Cash Register
!!! DISCONTINUED MODEL !!!
REPLACEMENT MODEL: Sam4s ER-915 (Click to View)
An Affordable ECR Featuring Traditional Plain Paper Dot Matrix Printing! Fast Reliable Epson M-U420 Receipt/Journal Printer With Easy-To-Use Single-Line Validation. With the features and capacity of a high-cost sophisticated ECR, the affordable ER-5115II provides the gateway to system features with standard RS-232C communications. The ER-5115II includes programmable 12 character alpha descriptors for each PLU.
44mm Plain Dot Matrix Printer

Programmable Management Controls

Validation

Compatible with Popular RS-232C Options
Program Save/Load PC Utility
1000 Price Look-Ups (PLUs) with Stock Counter
15 Programmable Keyboard PLUs, Expandable to 40
3 Menu Levels
Table Management Function
Five Macro Keys
12 Character PLU, Function Key, Group, and Clerk Descriptors
21 Character, 8 Line Programmable Receipt Message
Food Stamp Sorting and Tendering/Gallonage Calculations
Heavy-Duty Cash Drawer with 5 bill / 5 coin
21 group totals to accumulate totals of individual PLUs
Management X and Z reports include financial, PLU, clerk, group and sales by hour.
Check, cash, and up to eight charge keys.
Recommended Replacement for Discontinued Models: ER-3720, ER-1710A, ER-2710, ER-2715, ER-5115
Tell a Friend