Categories
Manufacturers
Cart Contents
Your cart is currently empty
Subtotal: $0.00
Sale Item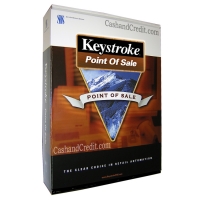 Keystroke Point of Sale - Version 8
$1195.00
Product Details
Sam4S ER-390M Cash Register

SKU: ER-390M

List Price:

$539.95

Your Price:

$385.95

Your Savings:
$154.00
Quantity:
Magnetic Card Reader:
Programming:

Share This Product:
Overview
Sam4S / Samsung ER-390M Cash Register
!!! DISCONTINUED MODEL !!!
REPLACEMENT MODEL IS: Sam4s ER-920. (Click to View)
Low-Cost Flat Keyboard ECR with High Speed Thermal Printing! A Commercial Grade ECR Featuring a Full Size Heavy-Duty Steel Cash Drawer, POS-Grade Thermal Printer, and Key Lock Security for Voids, Returns and Reports
The ER-390M is a perfect choice for any small retail or food service business. The quiet, high-speed thermal printer provides receipts that match the quality of high-cost POS equipment. Built-in memory can be assigned to capture transaction information for later sorting and review (electronic journal.) The flexible ER-390M keyboard can be configured with the exact functions you require, providing security, cash control and critical sales information.
90 Position Spill-Resistant Keyboard
Fast 13.3 Lines per Second Print Speed
Drop-In Paper Loading and Graphic Logo Printing
2-Line, Backlit, Liquid-Crystal, Alpha-Numeric Display
Optional Direct Connect PC Utility is Available to Create, Save and Load Your ECR Programs ? The Utility Can Also Poll Reports and Your Electronic Journal for Quick and Easy Transaction Reviews
Optional Internal Magnetic Card Reader
Compatible with Datacap?s DataTranTM Credit Terminal
Electronic Journal Captures Transaction Information
3,000 lines electronic journal are available.
500 PLUs; 60 PLU Category Keys (NLUs)
Four Tax Rates, Tax Tables or Value Added Tax
Two RS-232C Communications Ports For POS Peripherals: PC, Credit, Kitchen Printer, Coin Dispenser, Scale, Pole Display or Video Surveillance
Heavy-Duty Cash Drawer with 5 bill / 5 coin
20 group totals to accumulate totals of individual PLUs
Management X and Z reports include financial, PLU, clerk, group and sales by hour.
Check, cash, and up to eight charge keys.
Tell a Friend