Categories
Manufacturers
Cart Contents
Your cart is currently empty
Subtotal: $0.00
Sale Item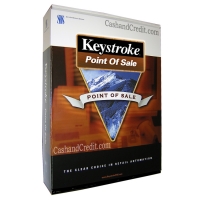 Keystroke Point of Sale - Version 8
$1195.00
Product Details
Verifone VX510

SKU: C/C TERMINAL-VERIFONE VX510
Overview
Built-in Thermal Printer, PCI-PED latest and highest security. The VeriFone Vx510 Credit Card Terminal is an advanced, yet easy-to-use device. With high-speed transaction processing, multiple payment applications, and the most reliable security protections, the VeriFone Vx510 terminal provides exceptional performance and functionality. Designed with a small footprint for easy handling, this product combines a mag-stripe card reader, high-speed thermal printer, and internal PIN pad with a user-friendly ATM-style interface to minimize costly errors. Triple-track card reader handles most magnetic-striped cards, including mini-cards. Integrated, high-speed thermal printer is quiet and easy to load, internal PIN pad for debit and other PIN-based applications, Providing multiple payment and value-added applications with superior performance for faster transaction processing. PCI PED approved for debit and other PIN-based transactions.
The Vx 510 offers built-in connectivity options (dial, Ethernet or GPRS wireless), expanding your future business options.
Transactions are secure with PCI PED approval.
Ample memory facilitates the addition of non-payment applications, such as Telco activation, loyalty and gift.
This entry-point countertop solution comes in a sleek, compact design, and offers dynamically-managed memory for seconds-fast processing of debit, credit, EBT and EMV cards.
Optional built-in smart card reader and Security Access Modules support multiple smart card solutions.
Internal PIN pad for debit. Sleek and stylish, with a small footprint and "hand-over" design for customer PIN entry.
Tell a Friend