Categories
Manufacturers
Cart Contents
Your cart is currently empty
Subtotal: $0.00
Sale Item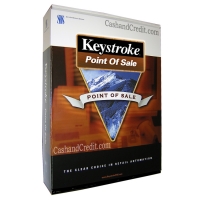 Keystroke Point of Sale - Version 8
$1195.00
Product Details
Hypercom S9 Pin Pad

SKU: PINPAD-HYPERCOM S9
Overview
The Hypercom S9 PIN Pad is a cost effective solution for all Hypercom terminals, electronic cash registers (ECRs). By adding a Hypercom POS PIN pad to your credit card machine for business transactions, your customers are able to use their ATM/Debit Card as payment for your products.
Meets the latest security standards
Visa® PED and Triple DES-certified
Easily integrated with existing POS devices
Rock-Solid Security including new EMV standards
Reads Both Smart and Magnetic Stripe Cards
Fully compatible with all Hypercom terminals from the T7 series through the ICE family

The S9's hand-fit and easy features maximize efficiency and responsiveness.
It puts big number keys, colored OK and CANCEL keys, and a bright, backlit display right in the palm of their hands.
It meets every security and network integration standard, it's PCI-PED approved and triple-DES-capable.
Its complete software makes for easy integration with your existing POS terminal or ECR system.Three optional configurations let you move up to an integrated chip card reader, magnetic stripe card or combined chip / magnetic stripe card service.
Tell a Friend