Categories
Manufacturers
Cart Contents
Your cart is currently empty
Subtotal: $0.00
Sale Item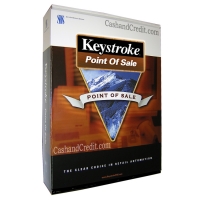 Keystroke Point of Sale - Version 8
$1195.00
Product Details
Datacap - No Upfront Cost DataCap with FIS Worldpay

SKU: DATACAP-FIS
Overview

Sign up for fast, reliable payment processing with
FIS Worldpay & AD Business Solutions
and receive
FREE NETePay Solution
Many Sharp, Samsung or SAM4s, Casio and TEC Electronic Cash Registers or Point of Sale are capable of integrating with Datacap devices to process credit card right through your cash register or your POS. Please give us a call so we can assist you in choosing the right model for your cash register.
FIS Worldpay
Accept All Major Credit Cards, Debit Cards and Gift Cards.
Exceptional 24/7 Customer Service & Technical Support.
Competitive Rates
FREE Gift Card Processing
Integrated processing with your Electronic Cash Register or POS
Seamless payment integration with AD Business Solutions products
Dial-Up or IP (High Speed) or Dual (IP with Dial-up backup) Connection
Payment Card Industry Data Security Standard compliance
No Upfront Cost DataCap Unit - $1295.00 value
Terms & Conditions: The No Upfront Cost Datacap Equipment is provided by FIS Worldpay and requires an active credit card processing agreement with FIS The Datacap equipment is property of FIS and is provided for a usage fee of approximately $12 per month, with a minimum active processing commitment of 1 year. If you decide to stop using FIS Worldplay the Datacap equipment will need to be returned to FIS or you will be charged the full amount of equipment. If you deciede to process with your own bank or processing company you will need to purchase your own Datacap device from AD Business Solutions and have it programmed with your own processor data sheet.
Benefits of Integrated Processing with ECR or POS
Eliminates duplicate data entry
Reduces or eliminate employee mistakes
Reduces or eliminate employee fraud
Speed up the check out time
Datacap Data Tran, IP Tran and TwinTran
DataCap DialTran, IPTran and TwinTran are PCI Compliant Integrated Payment Solution that adds dial up or high speed payments with automatic dial back-up to any Electronic Cash Register. Flexible and Secure Transactions are authorized via a standard phone line or via the internet in as little as 2 seconds.
DataCap DialTran, IPTran and TwinTran enables any ECR/POS or embedded device with a serial interface to authorize electronic payments via dial up, ip or the Internet with automatic dial backup. TwinTran uses a regular telephone line to provide redundant communication with no intervention from the operator. Replacing cumbersome stand-beside terminals and eliminating the need for a PC to connect to the Internet, Datacap units frees up counter space, speeds customer throughput, reduces administration time, fights employee fraud and eliminates costly dedicated phone lines. TwinTran is interfaced to hundreds of embedded systems, including cash registers, kiosks, parking systems, car wash systems and vending machines, and supports major payment processors for credit, debit, check, gift and loyalty transactions.
Built-in fast connect modem eliminates support headaches due to modem variations and systems conflicts, and allows use of standard phone lines
High-speed IP communications appliance with Windows CE operating system, requiring a persistent Internet connection and a regular telephone line for backup operation
Replaces DataTran dial appliance, without changes to ECR/POS system
Eliminates need for PC to manage Internet connection
Applications available for high-speed Payment Processing and Data Push
Supports Datacaps Patent Pending NoLoad and AutoLoad technologies, eliminating the need for the dealer to input or physically load merchant parameters
Supports major payment processors for Credit, Debit, Checks, Gift and Loyalty
TwinTran hardware platforms can be downloaded via PSCS (Payment System Configuration Server) with one of many available applications that provide payment functionality suited to a wide variety of systems needs
Downloadable applications offer support for:
- Multi-lane ECR/POS configurations supporting multi-trans
- Single ECR/POS with peripheral support for MSR, MICR, PIN pad
- Credit,Debit, EBT for a variety of merchant categories
- Gift/Prepaid/Loyalty programs support

Interfaced to most single lane and multi-lane embedded ECR/POS systems
Tell a Friend