Categories
Manufacturers
Cart Contents
Your cart is currently empty
Subtotal: $0.00
Sale Item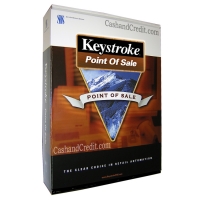 Keystroke Point of Sale - Version 8
$1195.00
Product Details
SHARP ER-A520 Cash Register

SKU: ER-A520

List Price:

$799.00

Your Price:

$699.00

Your Savings:
$100.00
Quantity:
Memory Option:

Share This Product:
Overview
SHARP ER-A520 Cash Register
!!! DISCONTINUED MODEL !!!
REPLACEMENT MODEL IS: SAM4S SPS-345.
The powerful ER-A520 is the ""everything you need"" solution for retailers and speciality business owners looking for robust features, reliability, quality and value. The ER-A520 provides easy to use operations, sophisticated features, security and the expandability to provide a high-end solution for the retail marketplace.
Raised Keys

- 144 Maximum
99 Depts - 15,000 UPC codes
Thermal Receipt and Journal printer
Learning function for UPC codes
6 price levels
Mix and Match tables
Previous Balance Look-up
Manual Prevoius balance / Credit balance
Up to 99 Cashiers
Cash and Check declaration
5 Bill - 5 Coin metal drawer
Credit Card Interface
Supports; scanner, scales, Slip printer, & PC communications
Tell a Friend